Electric guitar, acoustic and bass
I do enjoy a range of different guitar sounds but tend to stick mainly to my Gibson Les Paul Deluxe (1972) with mini-humbuckers which gives it a different sound to the regular humbuckers. These guitars practically play themselves and have amazing tone played through a Marshall 50w JCM900 – Gibson + Marshall is a killer combination in my opinion.
If I'm playing Rock and Roll or Jazz I go for my Epiphone Dot (2000) which has been upgraded with Gibson '57 Classic vintage style humbuckers and upgraded wiring so it's as close to a Gibson 335 I can get on my budget!
I have a Squier Stratocaster 25th Anniversary Issue which actually plays very nicely. I upgraded it with Ironstone Vintage Strat Pickups Platinum Alnico V, new wiring, pots, switches etc and a bone nut. I added a mint scratchplate looking for the '57 vibe! Lastly I stringed it with my usual Rotosound R11 Roto Reds (I highly recommend these! Click the image before for buying info). After all these mods it sounds great!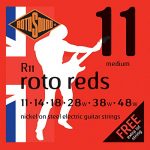 One of my early guitars is a Gibson Kalamazoo USA which was made as a budget alternative to the Fender Stratocaster. An interesting guitar which sounds great playing the blues. It had been upgraded with Gibson pickups (PAF and Humbucker) and hardware before I bought it in the '80s.
The Kalamazoo was made by Gibson during the '60s and '70s as a budget guitar with an MDF body and inexpensive components. One was like a Fender Mustang and the other a Gibson SG. The Kalamazoo had a KG-1 and KG-2 options, either single and dual pickups. Other options included a vibrola tremolo system and single coil pickups. The headstock bore a "Kalamazoo USA" logo rather than the Gibson decal.
Some of my favourite electric guitar makes and models
Gibson Les Paul
Gibson 335
Fender Stratocaster
Gibson 330
Acoustic guitar
Acoustic guitars I mainly play are an Ovation Balladeer (1980), Ovation Celebrity 12 string and a Tanglewood Dreadnought Martin wannabe. I love Ovations with their excellent sound projection and all round playability – not everyone's cup of tea I know. The Tanglewood is a great guitar for kicking about with – nice sound and not too expensive.
Ovation Balladeer (1980)
Ovation Celebrity 12 string
Ovation Pacemaker 12 string
Tanglewood Dreadnought
Bass guitar
I have a bass and can play it reasonably well if needs must! It's an Overton UK JB (Jazz Bass) Custom (Serial Number JB001). Really nice tone and I love the Jazz Bass for it's smaller size which certainly helps a guitarist like me.
If you want to discuss any of these guitars in more details then head over to Facebook or Instagram and we can talk there.