Taking to the open road on two wheels
Ever since I could ride a bike I've always loved bicycle touring whether it be a day trip with a packed lunch or short holiday abroad. Touring on your bike is one of the best ways to see the country you are visiting. It's easy to stop, have a look at a point of interest or just interact with the locals.
Organised bicycle tours are easy go on since most of your needs are catered for and transfers usually taken care of too, so all you need to do is concentrate on the cycling. My London to Paris tour was fully supported which meant I carried the minimum amount of kit and could pick up snacks every 15 miles.
Unsupported bicycle tours require a lot more planning. If you're like me and want to keep costs down, look for where the budget airlines go for inspiration. You'll want to take your bike with you, so get a big box to ship it in and pay for carriage of sports equipment when booking your flight – you'll often find this is more than the cost of your seat but worth it. Marry up budget airline destinations with any EuroVelo or long distance cycle routes if you'd like to avoid traffic or find some inspiration. See if there are any local cycle tours or blogs from people who have done it. They are a good source of route ideas – this usually works for more developed tourist destinations. Undeveloped countries need more work patching together random blogs and Google Maps coupled together with a bit of trepidation.
Good planning usually brings a good bicycle tour, so make sure you are reasonably thorough.
Looking for kit? See my bicycle tour kit recommendations…
2007 London to Paris
I got back in to cycling in 2007 when I signed up for a London to Paris bike ride when I was business networking at BNI. The London to Paris cycle ride covered about 90 miles per day over three days. I had no experience of cycling those kind of distances in a day so it was with a certain amount of trepidation to say the least! The route was from Bromley to Portsmouth; Caan to Rouen and Rouen to Paris. The tour was fully supported meaning that we could just concentrate on the cycling with luggage and food being catered for along the route.
Distance: 270 miles in 3 days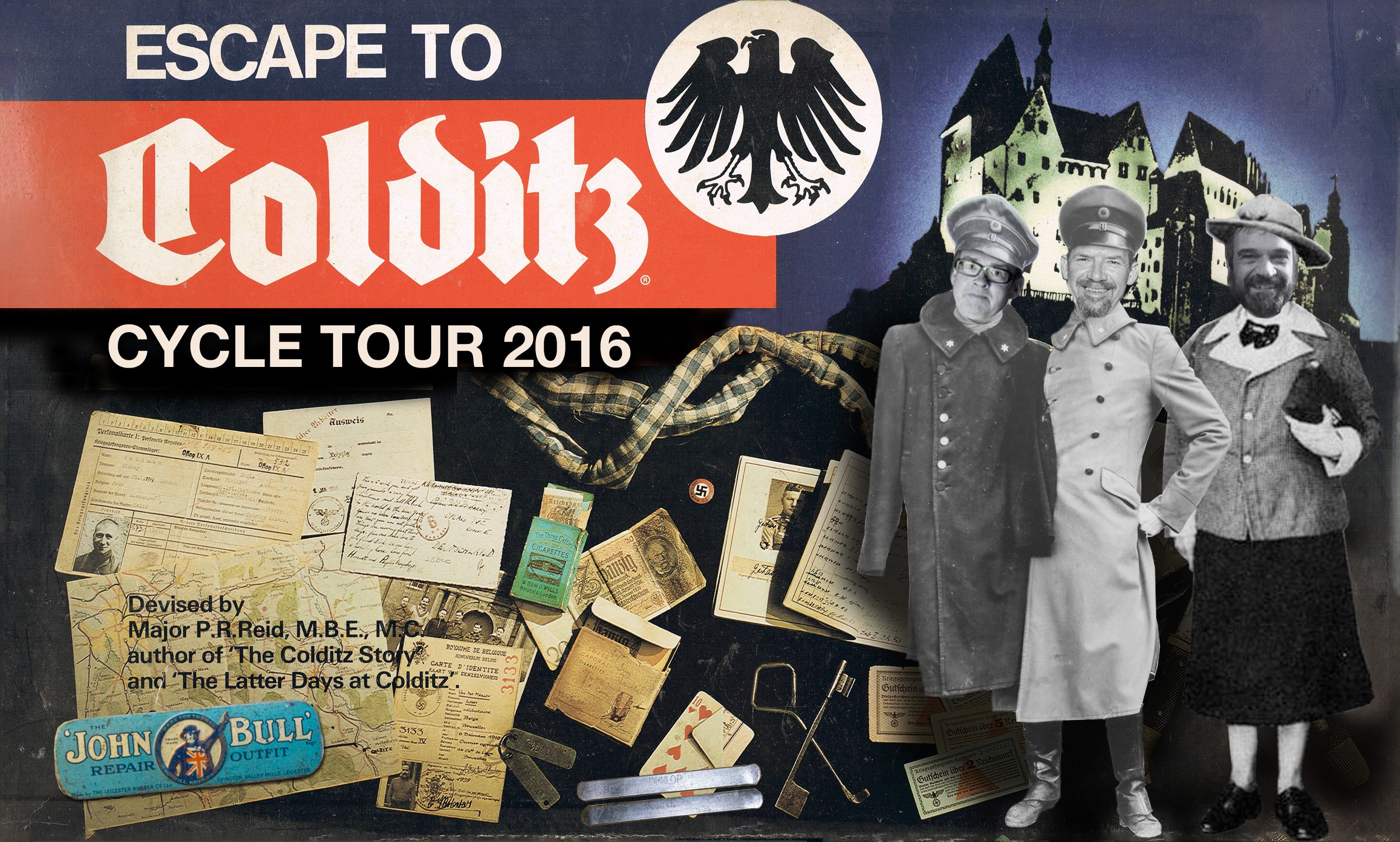 2016 Prague – Colditz – Leipzig
Our first recent unsupported cycle tour started in Prague, the capital of the Czech Republic and followed EuroVelo 7 along the rivers Vltava and Elbe to Dresden. After Dresden eventually left the Elbe and went cross country to Colditz Castle, the famous PoW camp. We stayed there the night and did a tour the next day which was rather special. We finished our tour in Leipzig before flying home.
Riders: Neil Rigby, Crispin Sinclair and Arnold Nisbet
Distance: 234 miles with 5 cycling days
2016 Calais – Crécy en Ponthieu – Calais
A short tour to commemorate the 100th anniversary of the death of my Great Grandfather in the Somme. Driver Francis Robert Lowe 99690 was with the Royal Horse Artillery and died in the Great War during the Battle of the Somme on 22/10/1916 and buried in Crécy-en-Ponthieu Communal Cemetery. This location is quite unusual as it is a communal cemetery and only contains two Commonwealth burials from the First World War.
My cycling trip involved taking the Eurotunnel Le Shuttle to Calais and cycling from there towards Crécy-en-Ponthieu.
Rider: Neil Rigby
Distance: 140 miles in 3 cycling days
2017 Girona – Pyrenees – Marseille
Following on from the success of the first tour, our second started in Girona in Spain and headed along the Costa Brava. Again we found inspiration from the long distance EuroVelo routes this time using EuroVelo 8. One of the toughest challenges was getting over the Pyrenees along a track to get us in to France. As soon as we were in France the road was a freshly laid tarmac switchback route – no pedaling required! We followed the coast which was challenging due to high winds but these blew out and the Languedoc became a lovely ride.
From Sète we managed to find a way across the Camargue which was exciting since the stakes were high if we failed – about another 100 miles or so of cycling! We crossed the Rhone and headed for Marseille where our tour ended.
Riders: Neil Rigby, Crispin Sinclair, Arnold Nisbet and Graham Jeal
Distance: 364.25 miles in 7 cycling days
2018 Kutaisi, Georgia – Tbilisi – Agstafa, Azerbaijan
This was a very exciting destination since not many cyclists have been there but the potential looked good. Starting in Kutaisi we headed out in to the countryside with a rough plan of climbing up to the Surami Pass to cross the mountain range and reach the plateau which gets you to Tbilisi. We essentially followed the historic Trans-Caucasus Railway, built in the late 19th century to haul oil across the Caucasus from Baku to Batumi. This route brought views of mountains, viaducts and passes. The train passes through a 4km tunnel but we had to go over the top! We camped the night beside the river and railway which was fun if not a little noisy in the wee hours!
We stayed in Gori, Stalin's birth place and then on to Tbilisi before heading in to Agstafa in Azerbaijan. We had to taxi it back to the border from Agstafa before cycling back to Tbilisi and catching the Trans-Caucasus Railway back to Kutaisi. A very enjoyable trip and so much cheaper than the Eurozone.
Riders: Neil Rigby, Crispin Sinclair, Arnold Nisbet and Graham Jeal
Distance: 256 miles in 7 cycling days
2019 Tbilisi, Georgia – Baku, Azerbaijan
In April 2019 we flew direct to Tbilisi in order to pick up our 2018 route and head for Baku on the Caspian Sea in Azerbaijan. Flights are more expensive than flying to Kutaisi but we knew that day-to-day living costs are minimal.
Riders: Neil Rigby, Crispin Sinclair and Arnold Nisbet
Distance: 450 miles in 10 cycling days
2020 Tour of East Anglia and Essex
Due to lockdown our main tour abroad had to be sadly cancelled but we were still keen to do a tour. Since any travel abroad was unlikely we opted for a tour of East Anglia and Essex, starting and finishing in Cambridge. We cycled to Mersea Island, Clacton, Cromer, Hadleigh, Stowmarket, Old Buckenham, Bessingham, Ringstead.
Riders: Neil Rigby, Crispin Sinclair and Arnold Nisbet
Distance: Unknown miles in 8 cycling days