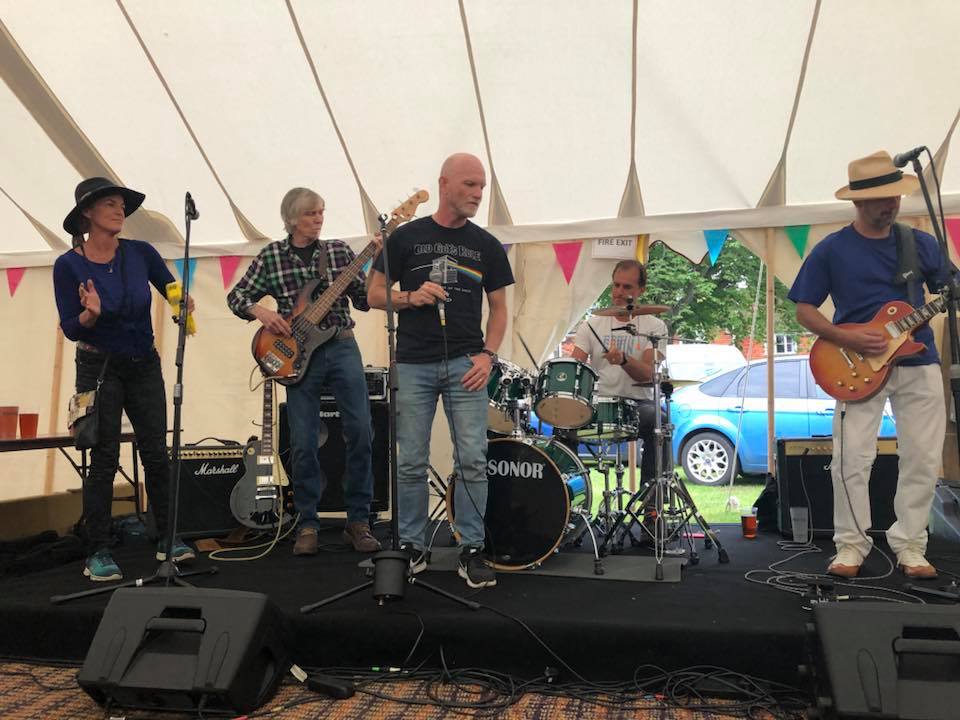 Pop / rock outfit playing songs we enjoy!
Old Wave was assembled as a result of regular jamming at the Gun & Spitroast. Neil Rigby (lead guitar) and Tim Veysey-Smith (vocals) had known each others for years but not musically, so getting together to jam on a Wednesday led to them getting a gig at the Horsmonden Summer Festival.
The rhythm section are regular jammers Pete Roberts (drums) and Pete Billing (bass guitar).
Typical songs
Sweet Home Chicago – Robert Johnson / Blues Brothers
Route 66 – Chuck Berry
Crossroads – Cream
Back in the USSR – The Beatles
Hush – Deep Purple
Light my Fire – The Doors
I Put a Spell on You – Creedence Clearwater Revival
Substitute – The Who
Regret – New Order
Milk & Alcohol – Dr Feelgood
Work Together – Canned Heat
Going Up the Country – Canned Heat
Soul Man – Sam & Dave
She Caught the Katy – Taj Mahal
Messin' with the Kid – Junior Wells
The Kids are Alright – The Who
Crossroads – Cream
Paper Plane – Status Quo
Can't Explain – The Who
Virginia Plane – Roxy Music
Psycho Killer – Talking Heads
Making Plans for Nigel – XTC
Werewolves of London – Warren Zevon
Work Together – Canned Heat
White Room – Cream
I Fought the Law – The Clash
All Day and All of the Night – Kinks
Bad Moon Rising – Credence Clearwater Revival
Suffragette City – David Bowie
Senses Working Overtime – XTC
Roxette – Dr Feelgood
Hit me with your Rythmn Stick – Ian Dury
Train in Vain – The Clash
Monkey Spanner – Dave & Ansel Collins
Sun is Shining – Bob Marley
What do I get – Buzzcocks
Roxanne – Police
Hit the Road Jack – Ray Charles
Monster Mash – Bobby 'Boris' Pickett and The Crypt-Kickers